Mar 1 2012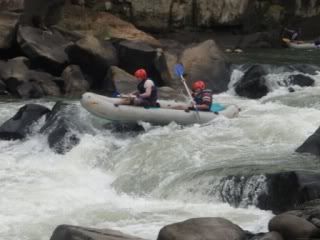 5. Rafting in the Orange River
The famous Orange River has carved its way through the African landscape for centuries and is renowned for its canoe safaris and river rafting. The longest river in Africa, the Orange River travels all the way from Lesotho and ends in the Atlantic Ocean. The best way to experience it is to book a tour – there are a variety of tour companies that offer rafting, camping and meals over multiple days.
4. Scuba Diving in Gauteng
Scuba diving never loses its mystique and diving in Gauteng is no exception. The Gauteng Province plays a large role in the local success of the scuba diving industry in South Africa, with some of the most popular scuba diving spots being Umkomaas, Durban and Sodwana Bay. Due to its immense popularity, there is no shortage of dive schools to choose from or dive spots to explore.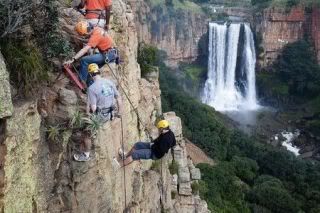 3. Rock Climbing in Emgwenya
In the town of Emgwenya, or Waterval Boven as it was called prior to 2009, lies some of the world's best rock climbing locations. With over 450 sport and 150 traditional rock climbing routes, there's no shortage of adrenaline pumping activities to get your blood rushing. Be sure to check out the mountain chalets for relaxing accommodation after a tiring day.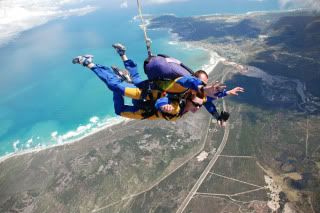 2. Skydiving in Cape Town
There is nothing quite like the rush of free-falling from hundreds of kilometers in the air – if you're a seasoned adventure traveller, skydiving is always near the top of your to-do list. Situated a 40-minute drive away from the center of Cape Town, the skydiving drop zone features one of the best views in the world from altitude. After the big jump, you can also drop by one of the local wine farms in Stellenbosch or enjoy some seafood on the V&A Waterfront, just in case you need to get over the adrenaline rush!
1. Rap Jumping at the Golden Gate National Park
If you're a thrill seeker who hasn't yet heard of rap jumping, you'll be for an exhilarating experience! The close cousin of abseiling, rap jumping is a relatively new phenomenon for those who dare to run down the sides of rock faces and buildings. Popular South African rapp jumping spots include Johannesburg, Pretoria and Cape Town, however the picturesque sandstone landscapes of the Golden Gate National Park in Drakensberg are the perfect backdrop to fully immerse yourself within the thrilling experience.